Case No: 1
Patient name: Mr. Sammy
Soluble scaffold in Cardiologenic Shock, LVEF-25%, on IABP and Ventillatory support.
A 71 years old diabetic presented with heart failure and Cardiogenic shock caAngio showed infract related LAD artery and long stenosis was calcified, fibrotic and needed sequential balloon dilation with NC ballcon at high pressure to create a good vascular bed to advance long overlapping absorb stent deployed at 18 atm and post dilated absorb stent by 3.5 x 12 mm trek NC balloon at 14 atm with excellent result.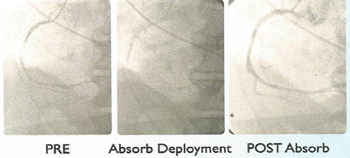 ---
Case No: 2
Patient name: Mr. Mehdi Mohseni
Rotablation followed by Absorb Scaffold in heavily Calcified RCA.
Rotablation followed by Absorb Scaffold in heavily Calcified RCA.A 74 years old diabetic, hypertension, post bypass surgery\, chronic kidney disease on dialysis. Presented with heart failure and breathlessness 2D Echo showed low heart pumping, angio showed LIMA to LAD patent, heavily calcified dominant RCA with 95% stenosis in proximal segment, severe calcification blockage treated by rotablation and soluble scaffold. Patient now walks 45 mins daily.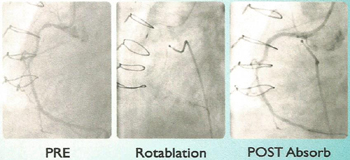 ---
Case No: 3
Patient name: Mr. Pauline Gonsalves
Absorb scaffold in diabetic foot with rest leg pain in long standing diabetic.
A 82 years old lady complaint of severe claudication of right lower limb. DSA showed total occlusion of anterior tibial artery with diffuse disease and good distal flow treated with two overlapping absorb soluble scaffold. Patient got relief of leg pain walks for 30 min every day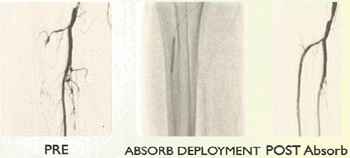 ---
Case No: 4
Patient name: Mr. D
Combo device (Defibrillators with biventricular device for heart failure in diabetic dilated cardiomyopathy).
A 44 years old diabetic presently with heart failure, 2D- echo showed LVEF 15% combo implanted as a bridge to heart transplant when availability of heart facility of heart transplant and the cost matter.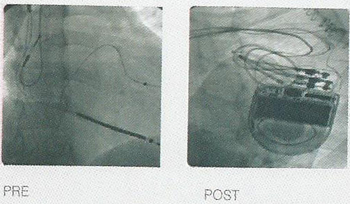 ---
Case no: 5
Patient name: Mrs. M. S
Heart failure critical aortic stenosis and coronary artery disease treated with TAVI (Percutaneous valve implant) and absorb scaffold.
A 67 years old lady post Bypass surgery 14 years ago presented with acute breathlessness and heart failure. 4D ECHO and Angiography showed critical stenosis of aortic valve successfully treated with TAVI (Percutaneous valve implant). She is now fit and fine, 4 years after the valve implant.